2005/02/18
This project is to convert the combination WC and shower into a storage room.
Initially I put stuff into the room after pulling out the wash basin and toilet, but the separating wall between the two halves was making it difficult to effectively use all the space. The wall had to go. It was not a load bearing wall. It had been part of the compartmentalization of the basement during the renovations in the early 70's. The original ceiling plaster was also in poor condition. It was a 10-25mm thick coating of plaster that had almost completely separated from the concrete ceiling/floor above.
What it originally looked like.
---
2005/02/20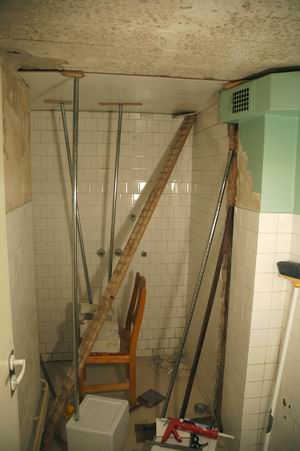 The wall and original ceiling plaster removed. I have installed half of the new ceiling, There was some left-over vinyl flooring with which I covered the floor. I expect I'll throw some paint on the walls, possibly over the tiles, if I can find some paint that will stick.
---
2005/03/04
The best laid plans of mice and me… I took down the supports, and down came the ceiling tiles. Back to the hardware store to find better glue. I talked with the shop assistant, and he said that he had the ideal product for the job. He took me a different part of the store, and introduced me to an old friend, liquid nails… Hallelujah, a civilized place, you can buy liquid nails. Back home with 5 tubes, and started again. Two hours later all the tiles were up. Only used two tubes, now I have 3 spare, plus the two I brought with me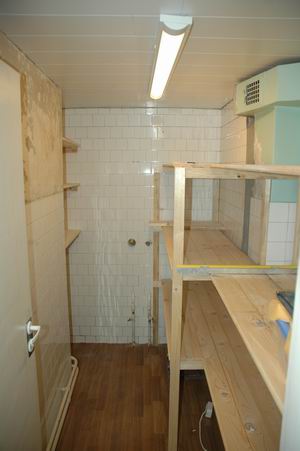 The final product. Recycled flooring laid over the tile floor. Shelves built, 22mm tongue and groove floor boards make nice shelving. Decent lighting.
Another completed project! And, yes, it is already full of junk!