The Kitchen. A work in progress.
Last updated 2005/01/29
The kitchen is the center of life at home. Whenever I have visited friends over the years, we usually end up congregating in the kitchen. My goal is to try to make our kitchen a friendly place.
The original "kitchen" was unworkable, two separate rooms, one used as the reception office, and the other a narrow space where breakfast was prepared. It was never meant to be a "live-in" kitchen.
We combined the two rooms, into a kitchen which also serves a informal eating or breakfast room. It is also intentionally bright so those cold winter mornings, and evenings, don't seem quite so overwhelming.
The two rooms used to look like…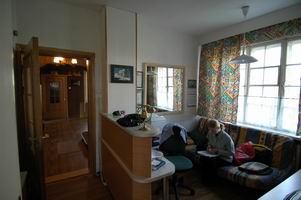 The original reception room.
The "kitchen".
---
What it looks like now. circa 2011 kitchen. Essentially done, other than window mouldings, and some cupboard doors, that we might never bother with.