2005/06/11
Today, the Tartu Sacred Music Song Festival, had its major performance. The day dawned a typical early summer day, warm, with the potential for rain.

 The festival started at the ruins of the13th century cathedral that  tops Toomemägi, west of the center of town. The East end of the cathedral has been rebuilt over the ages, and today houses the Tartu University History Museum.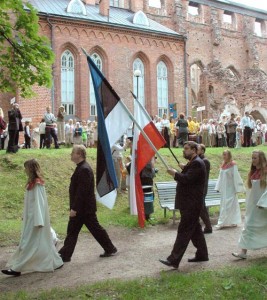 Lead by the Estonian and Tartu City flags, accompanied by music, the parade started.